The Beauty of Being Connected and Protected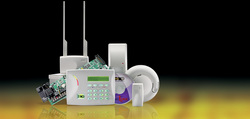 Convenience is essential; and Kerman Protection only uses the best products to ensure this convenience. Press ONE button to arm, reset detectors, turn on door chime, and perform other common functions. User guides and cheat sheets are a thing of the past. Built in card readers are now available so that there are no more keys to press or codes to remember; you can now be on your way with a fob or key card. We install alarm systems with internet and cellular GPRS links, as well as a dial-up option, to provide optimum communication strategies for you and your company, to ensure that your alarm will be quickly and securely transmitted to the monitoring station. With multiple communication option configured in your system, your company can be confident that when the system detects trouble and the panel calls for help, the message will get through and the appropriate response will be initiated by Kerman.

---
Video Surveillance Systems
Kerman Protection has a vast array of cameras, digital video recorders and software, our advanced systems discouraged armed robbery and provide evidence against false accident claims, shoplifting and employee theft. Record months of images from cameras to our firmware or software based digital video recorders.

Access Control Systems
Kerman Protection offers superior access control systems that secure virtually any location. Fully integrated solutions means less user error and heightened security. User-friendly entry systems allow you to alter access as well as record user activity. From integration of outmoded legacy systems to state of the art biometric readers, Kerman Protection has a solution.

Fire Systems
Kerman Protection specializes in monitoring virtually every environmental condition. We can oversee fire sprinkler waterflow, HVAC Systems, industrial equipment, high/low temperature, humidity, dangerous gases(carbon monoxide, natural gas, etc) and other critical systems.
Burglar Alarm Systems
At Kerman Protection are focused on keeping you safe so you can focus on your business. We design commercial security solutions that help protect you against intrusions, robberies and other security threats, as well as environmental threats. Our Three-Path coverage has never been defeated and is virtually immune to criminal tampering and environmental conditions. While other companies are trying to catch up, Kerman Protection continues to develop its solutions to keep up this ever changing technology.